This project was conceived with the client and the advertising agency responsible for the current campaign. The goal was to take the complex requirements for the exhibit and combine them with an outdoor adventure theme. The message is that seizure control allows patients to get out and experience the outdoors.
Structurally the exhibit needed: Commercial space with multiple detail stations, hospitality, medical information, HHC (corporate information), Pipeline, meeting space and storage. Each area having their own sightline requirements.
Original Rough Sketches for Layout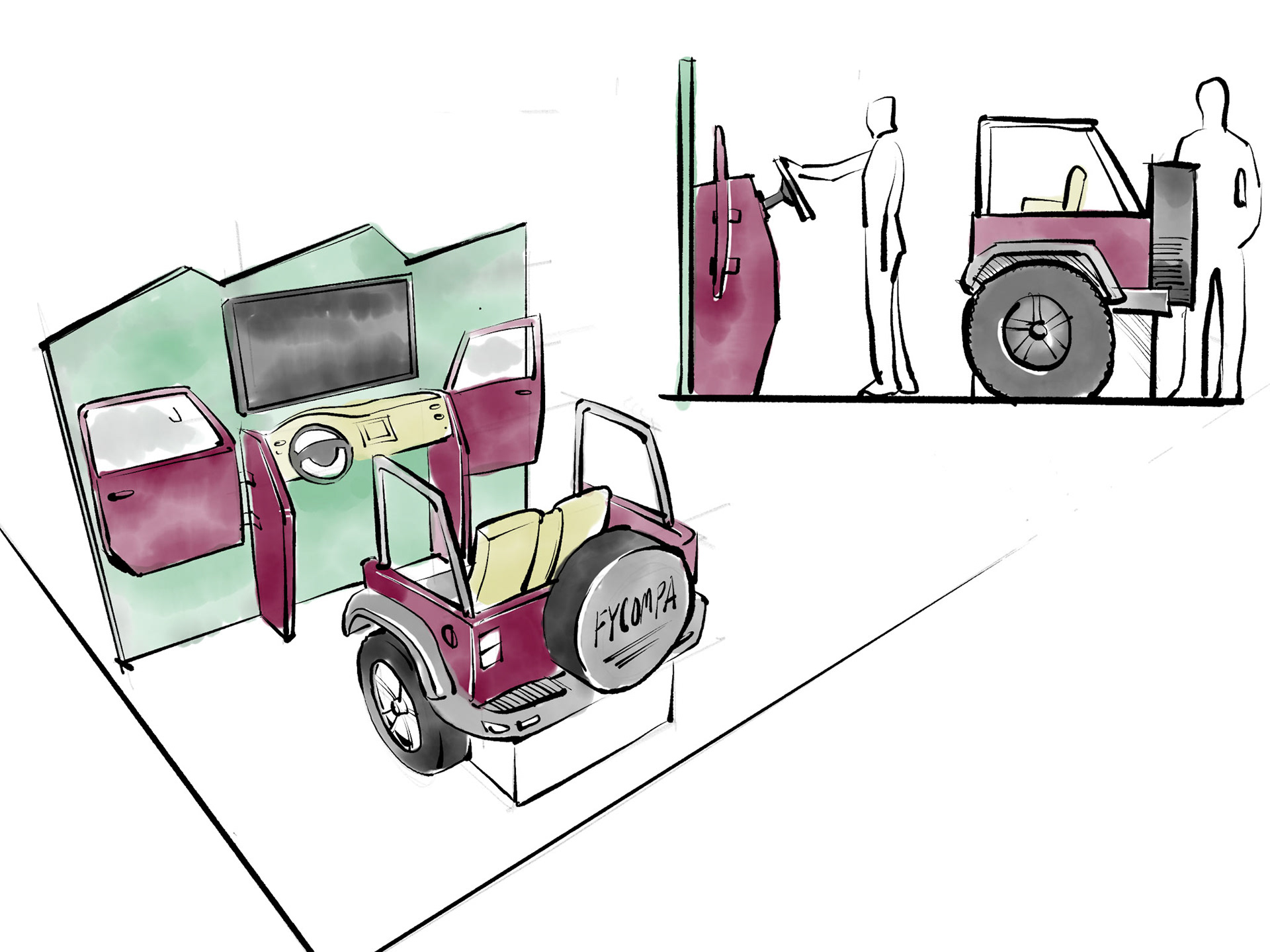 Initial Presentation Inspiration Sketches
The overall concept was to theme each area with an outdoor activity. Meetings took place around a campfire. Detail Stations (Demo Areas) looked like Park Ranger Information stations. The agency supplied VR experience took place inside the Jeep.
Final Presentation Renderings
Due to the nature of the pharmaceutical approval processes, the renderings needed to accurately depict ALL aspects of the experience, including graphics and furniture. Final presentations included 10+ views that showed all areas of the exhibit. Every time a graphic was tweaked, the renderings needed to be redone for re-approvals. For this project, the full exhibit was rendered over 30 times! Each time with a turnaround requirement within hours.
In-Progress Construction Photos
The biggest engineering challenge was the Jeep. A full-scale vehicle was cost prohibitive and ergonomically inefficient. The Jeep needed to be split to allow handicapped access to the VR experience screen. The front end of the vehicle was not needed, for weight and spacing, so the rear was built out of OEM Jeep parts on a storage frame which would hold the A/V.
In-Progress Construction Photos
Final show photos from Baltimore, MD 2019